INTRODUCTION TO BUDDHIST MEDITATION
Think Bigger – Think from the Heart
A Buddhist philosophical, psychological and meditative approach to expanding your awareness. With commentary from How to Transform Your Life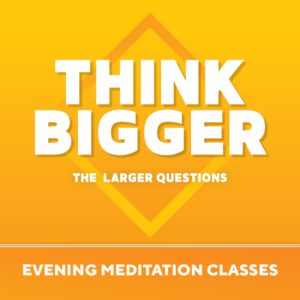 Sometimes we think too small.
It's easy to get stuck in a small-minded approach to life.
This course will provide the Buddhist philosophical, psychological and meditative approach to expanding your awareness. 
In this course we will explore:
The nature of consciousness

Our highest potential 

The various realms of existence

Past & future lives 

Karma

What it means to be a Bodhisattva
This is a special opportunity to learn a different way of thinking that is not ordinary, that comes from the omniscient wisdom of Buddha, and that can radically shift your view of yourself, your life, and your world for the better. Everyone is welcome.
ON-GOING • DROP-IN ANYTIME
July 6      Introduction to Buddhist Meditation
NEW SERIES BEGINS July 13
July 13   How Big Is Your Mind? 
July 20   What's the Point? 
July 27   Where Did I Come From? 
Aug 3     Where Am I Going? 
Aug 10   How Can I Help? 
Aug 17   Who Can I Trust? 
This class is designed to help those looking for Buddhist wisdom to help with stress relief and relaxation, as well as those interested in exploring the nature of the mind, and pursuing the Buddhist path. It is suitable for beginners and experienced practitioners alike.
A typical class consists of a guided relaxation meditation, a teaching based on the meditation topic, and a final contemplative meditation. Although classes are given in a series, they can be taken individually, as each class topic is self-contained.
There is no physical exercise, yoga, or stretching involved.
Everyone is welcome, regardless of belief; you do not need to be Buddhist to attend. No pre-registration necessary.
Time
7:15 pm
Teacher
Nick Plopys
Cost
$12 suggested donation (free for members — membership info click here)
No one is turned away for lack of funds.
Location
Tara's Garden
Riviera Village
1840 S. Elena Ave
Suite 203
Redondo Beach, CA 90277
---
---
---