COSTA MESA
MEDITATION & BUDDHISM CLASSES
"Without inner peace, outer peace is impossible." — Venerable Geshe Kelsang Gyatso Rinpoche
GENERAL PROGRAM
Spring Series
TRAINING THE MIND
CLASSES ON-GOING | DROP IN ANYTIME
AVAILABLE NOW
---
Series I

Finding the Path and Following Buddha
Feb 11
Our Precious Spiritual Life
Feb 18
Understanding Impermanence
Feb 25
Buddha's Special Message for Us
Mar 10
Learning How We Create Our Own Suffering
Mar 17
Ending the Causes of Suffering
Mar 24
NO CLASS - OCC Class Break
Series II

Making Progress with Compassion and Wisdom
Mar 31
How to Know that All Living Beings are Equal
Apr 7
Repaying the Kindness of Others
Apr 14
Pacifying Outer and Inner Distractions
Apr 21
The Compassionate Self
Apr 28
Alleviating Suffering and Comforting Others
May 5
Understanding Buddha's Wisdom
---
Classes also held Mondays in Santa Ana, Tuesdays in Dana Point, Wednesdays in Newport Beach, and Thursdays in Santa Ana
For details visit the Orange County website:  http://meditationinorangecounty.org/
---
In these classes we will study various Buddhist texts written by the Venerable Geshe Kelsang Gyatso Rinpoche. Students can purchase books at class or online through the publisher Tharpa Publications.  Through study, contemplation and meditation we can solve our daily problems of uncontrolled desire, anger and ignorance, and make our human life meaningful.
Venerable Geshe Kelsang Gyatso Rinpoche is an internationally renowned meditation master and scholar.  In his books, Venerable Geshe-la explains practical instructions to complete the path to enlightenment, based on his deep experience gained from a lifetime spent in meditation.
---
Cost
Series I
Finding the Path and Following Buddha
Learn how to be happy all the time through putting Buddha's teachings into practice.
Fee:  $15 per class or $75 for series
Series II
Making Progress with Compassion and Wisdom
Come to understand the essential meaning of Buddha's teachings.
Fee:  $15 per class or $75 for series
Enroll in both sessions for $135
General Program Format
Each class is 75 minutes long and broken down into several sections. We begin with an introduction to the topic covered, then we still our minds with a guided 10 minute breathing meditation. This is followed by a 35 minute commentary on the actual meditation practice, then 10 minute guided meditation on the topic, and 15+ minutes of intra-class discussion follow, questions and answers.
These classes are suitable for both beginners and more advanced practitioners. No special clothing is required and no pre-registration is necessary. After class feel free to stay and discuss the topic with like-minded practitioners.
There are two ways to join these classes:
1) Register for each Series through the Orange Coast College website by clicking link here. Simply choose series, add to cart, and prepay.  New Students will be asked to Create New Profile with a username and password.
or
2) Drop in and simply pay $15 per class, no one is turned away. Each class is self-contained and can be enjoyed on a drop-in basis.  Parking permit costs $3.00 per visit and more information is below.
Teachers from
Mahamudra Kadampa Buddhist Center
Meditation Teacher:  Jane McLaughlin
Time
7:00 pm to 8:15 pm
Location
Orange Coast College
Allied Health Sciences Bldg #105
2701 Fairview Road
Costa Mesa, CA  92626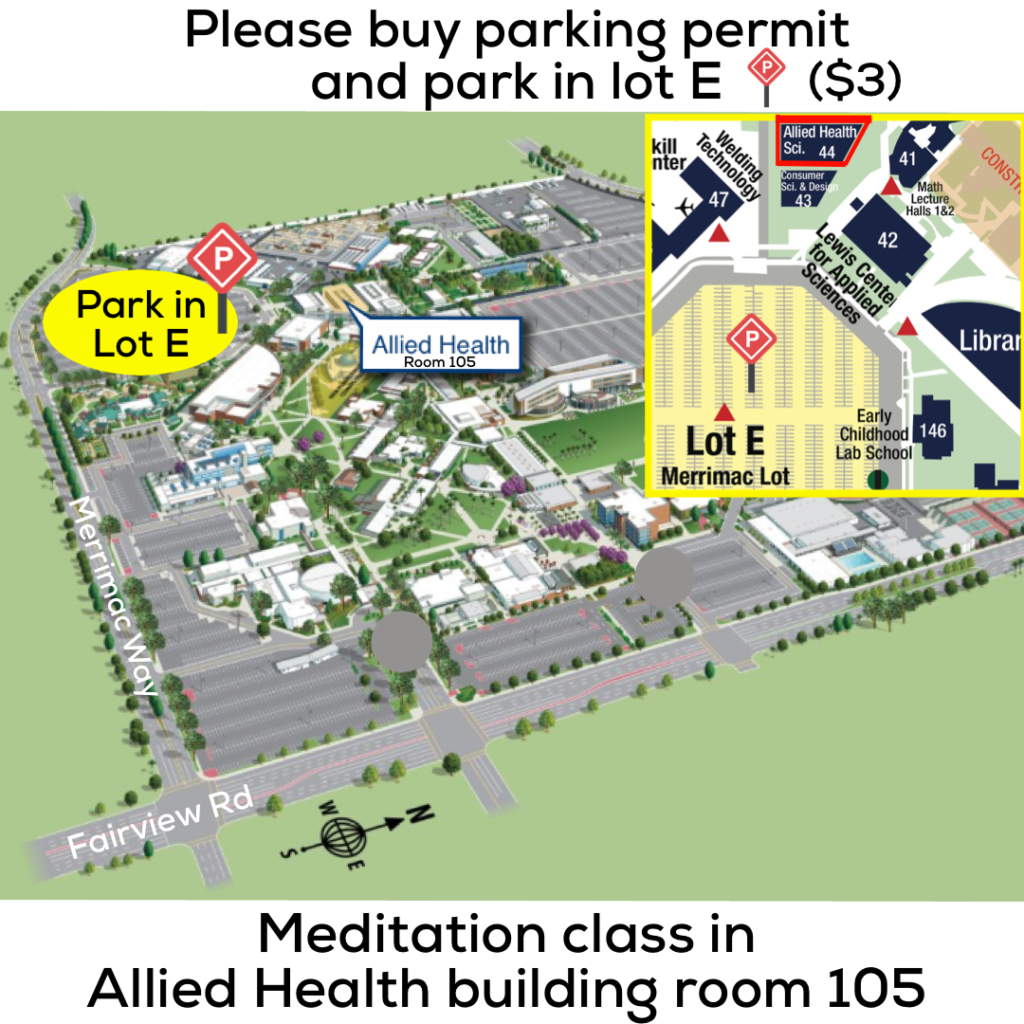 ---